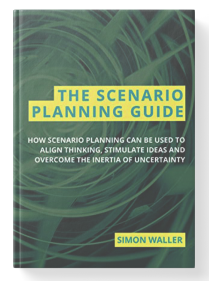 The Scenario Planning Guide
The Scenario Planning Guide has been created for leaders, strategists and scenario practitioners who want to improve decision-making in times of high uncertainty.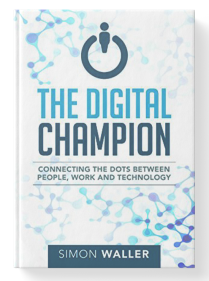 It is for people who want to make a competitive difference in their organisations – people who are passionate in their beliefs about the opportunities that digital technology offers and the need for their organisations to get on board.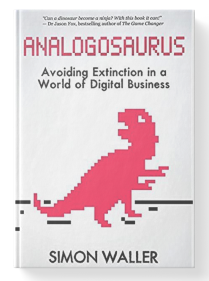 Avoiding Extinction in a World of Digital Business is a book for people struggling with the uncertainty of digital change. It details how technology is impacting people at work, looks at the opportunity digital technology offers to complement human abilities and provides a practical approach to using digital tools more effectively.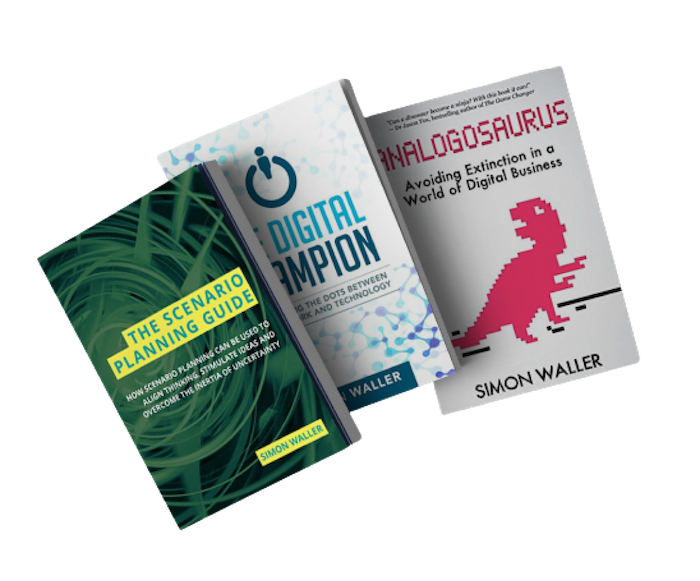 Keen to do a deep dive into Simon's mind? The bundle includes a signed copy of Analogosaurus, The Digital Champion and The Scenario Planning Guide. Perfect for leaders, strategists, managers and students.
Simon has written the bible for Digital Champions
Simon has written the bible for Digital Champions. Simon is on a mission to help people prepare for the future of work by engaging people people in the technology of the present. Simon is fluent in both IT and business, and teaches Digital Champions how to successfully implement digital projects by building a bridge between both (and bringing along users and vendors for the ride). This is an imminently readable book that teaches how to select, validate, and execute digital projects that matter. Essential reading for anyone who wants to don the cape of a digital champion and successfully implement meaningful digital projects.

Help in getting back to the things that matter
If you're drowning in the digital deluge, Simon Waller will give you a hand up into his fishing boat. The Digital Champion will help anyone struggling to connect the dots of people, work and technology. Simon Waller introduces a new role into organisations — the Digital Champion — and shows how this role can link business side and technology side stakeholders to identify possibilities, investigate opportunities, and implement digital projects in small and medium sized organisations. As a storyteller, my favourite part of the book is the story framework for "the simplest business case in the world." Cheers to Simon Waller for showing us how to make better use of technology so we can get back to the things that matter.

A must read if you want to leverage technology
In our modern technology workplace, we dream of efficiency and productivity, but the reality falls short. Many businesses either have the technology but no idea how to leverage it, or have no idea of the technology that they could be leveraging if only they knew! Simon Waller approaches these issues in an innovative, practical and inspired way. The Digital Champion is the book that will help your organisation develop possibly the most valuable role in your team – a Digital Champion.

If we aren't using technology to make our lives better, then we are using it wrong
This book is a must-read for any organisation who thinks they need to increase their digital maturity, but don't know where to start, and don't have a bottomless pit of money to do it! Simon puts forward a pro-active approach with a simple methodology that any size business can relate to. What really spoke to me though was the mindfulness in the use of technology that he advocates – 'never lose sight of the fact that digital technology is just a tool, and if we aren't using it to make our lives better, then we are using it wrong'

The Scenario Planning Guide is great and even for someone who's been doing scenarios for years, it prompted some serious thinking. I just wanted to let you know how much I enjoyed the way you've made complex concepts accessible. I love the models and the layout. The whole book is exceptional!