The following scenarios were created to help understand how remote and hybrid work arrangements might play out over the next few years. As I write this in mid 2021 this is a hot topic for many boards and organisational leaders. There is a clear tension between what many employers and employees would like and this is further confused by ongoing challenges with a global pandemic, intermittent lockdowns, uncertainty in the global economy and countless other factors.
The good news is that scenario planning is particularly useful when it comes to complex and uncertain problems. That being said I'm not promising that the following scenarios will give you all the answers but I certainly hope that it will help you identify better questions.
Simon
WHAT IS
SCENARIO PLANNING?
Unlike other strategic planning approaches that aim to define a single preferred future for an organisation to aim at, scenarios acknowledge that the future is complex and unpredictable. Rather than determine one future and be guaranteed to get it wrong, scenario planning helps decision makers understand the 'boundary of the future' through multiple scenarios that are all credible, equally probable and yet entirely different.
There are many benefits of the scenario planning process. It results in decision makers thinking more deeply and critically about the trends shaping their organisation's future. It encourages greater flexibility and responsiveness as operating conditions change. And it provides a basis for identifying new strategic options, as well as testing existing ones.
Since its inception in the 1960's by Royal Dutch Shell, scenario planning has helped leading global organisations outperform their competitors. But you don't need to be a Muti-national organisation with a full-time scenario planning team to take advantage of this approach. The scenario planning approach can be tailored to address strategic challenges of all shapes and sizes.
Build out each of the four scenarios as a narrative taking us from the present out to the defined time horizon.
Use the narratives to inform strategic conversations, engage stakeholders and test current and future strategic options.
how and
where people work
2. ENVIRONMENTAL SCAN
RESULTS
The environmental scan was undertaken by myself and my research team. The scanning process identified more than 50 different factors that could influence the outcome of the strategic question. These factors where then aligned into 12 strategic themes.
Attitudes Towards Globalisation
Will the pandemic result in the rise of nationalistic values?
Flex Becomes Normalised
How fast will remote and flex work arrangements be accepted?
Generational Leadership Shift
Will Millenial leaders bring new values and norms to the workplace?
Individual Values Change
Will the pandemic have a long term impact on peoples individual priorities?
Organisational Culture
Is an organisations culture compatible with remote and hybrid environments?
Redefining Cities
Can the CBD and regional centres quickly respond to the needs of remote and hybrid work?
Remote Reduces Costs
Will cost reduction (rather than employee benefit) drive remote work?
Speed of Vaccination
How will attitudes towards vaccination and the speed of vaccination change?
Technology Improvements
How far can technology close the gap between real world and virtual experiences?
Unemployment Rate
Will we see sustained low unemployment or is this a short term anomaly?
Vaccine Incentives
Will we devise suitable incentives to reach and maintain herd immunity?
Virus Spread
Will continued mutation of the coronavirus mean the spread cannot be controlled?
Although all these themes have the potential to impact the strategic question, they will not do so equally. Some have the potential for greater impact than others.
In addition some of these themes are relatively stable and their outcome predictable. These are likely to be the things that are already being planned for of being monitored.
Of most interest are the themes that are both high impact and uncertain. These we need to understand better and will become the focus of our scenarios.
Over the next page is the priortisation matrix for the twelve themes that were identified.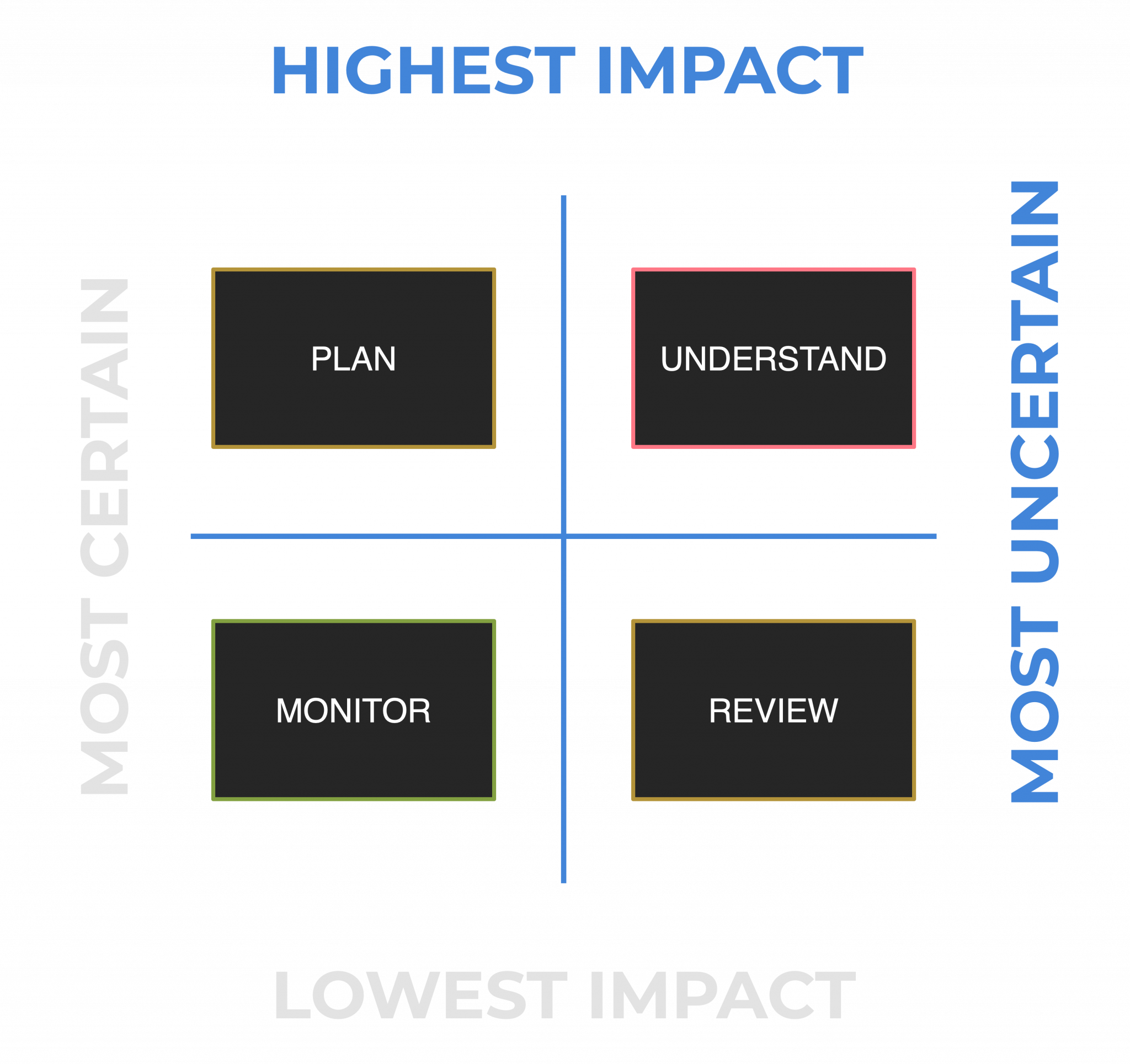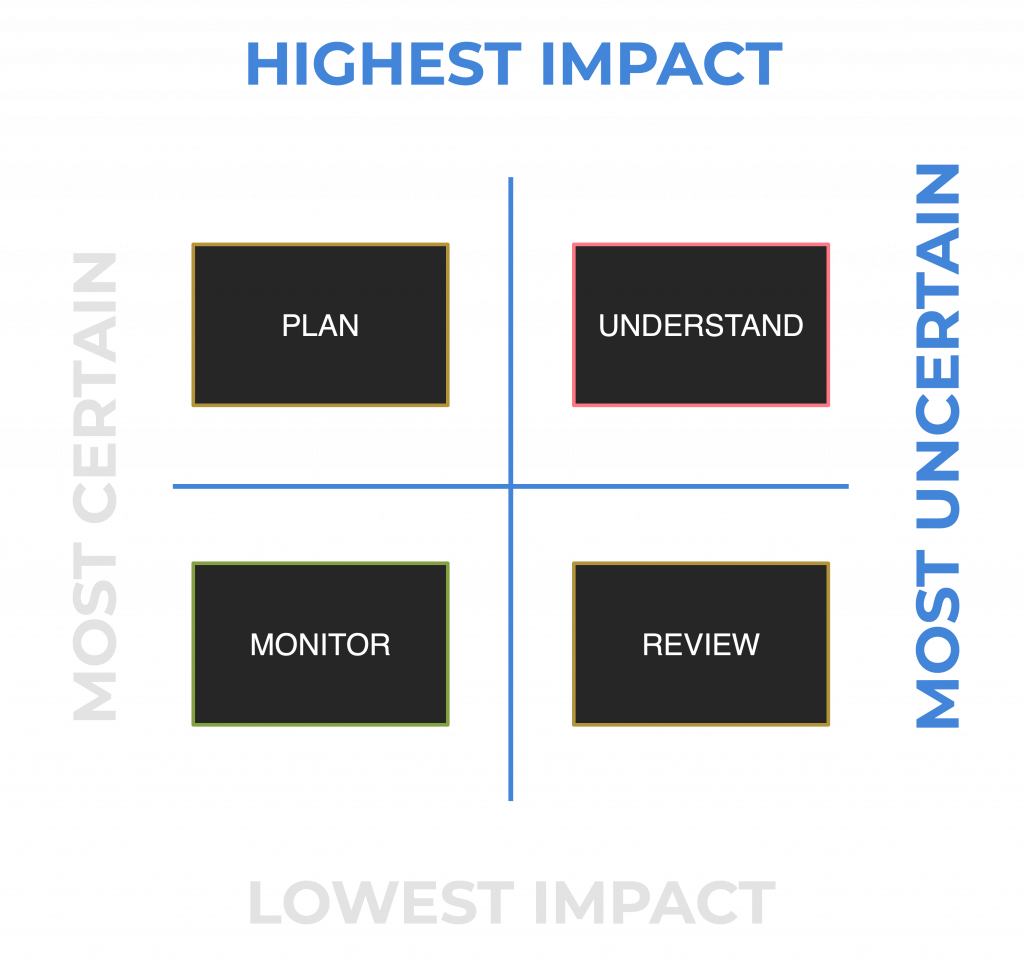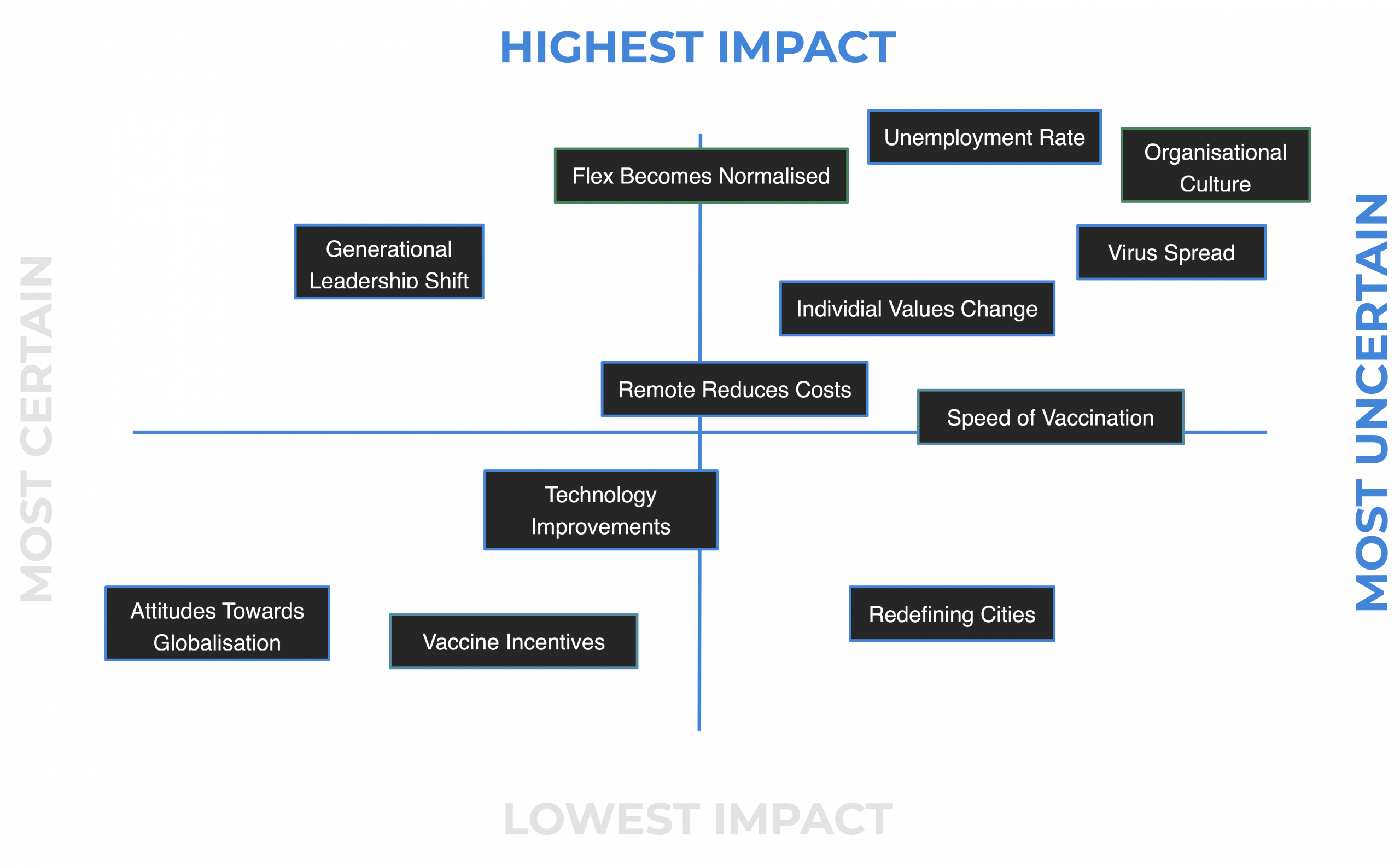 Of the twelve themes the three that we need to understand best are
Organisational culture and the rate at which flex becomes normalised.
The ongoing spread and mutation of coronavirus
The unemployment rate and to an extent the strength of the global economy.
All three of these themes will help shape the scenarios. In this case the normalisation of fees and the unemployment rate were chosen as the primary axis to define our four scenarios.
Over the page the combination of the extreme positive and negative of these two themes are used to determine four possible future scenarios.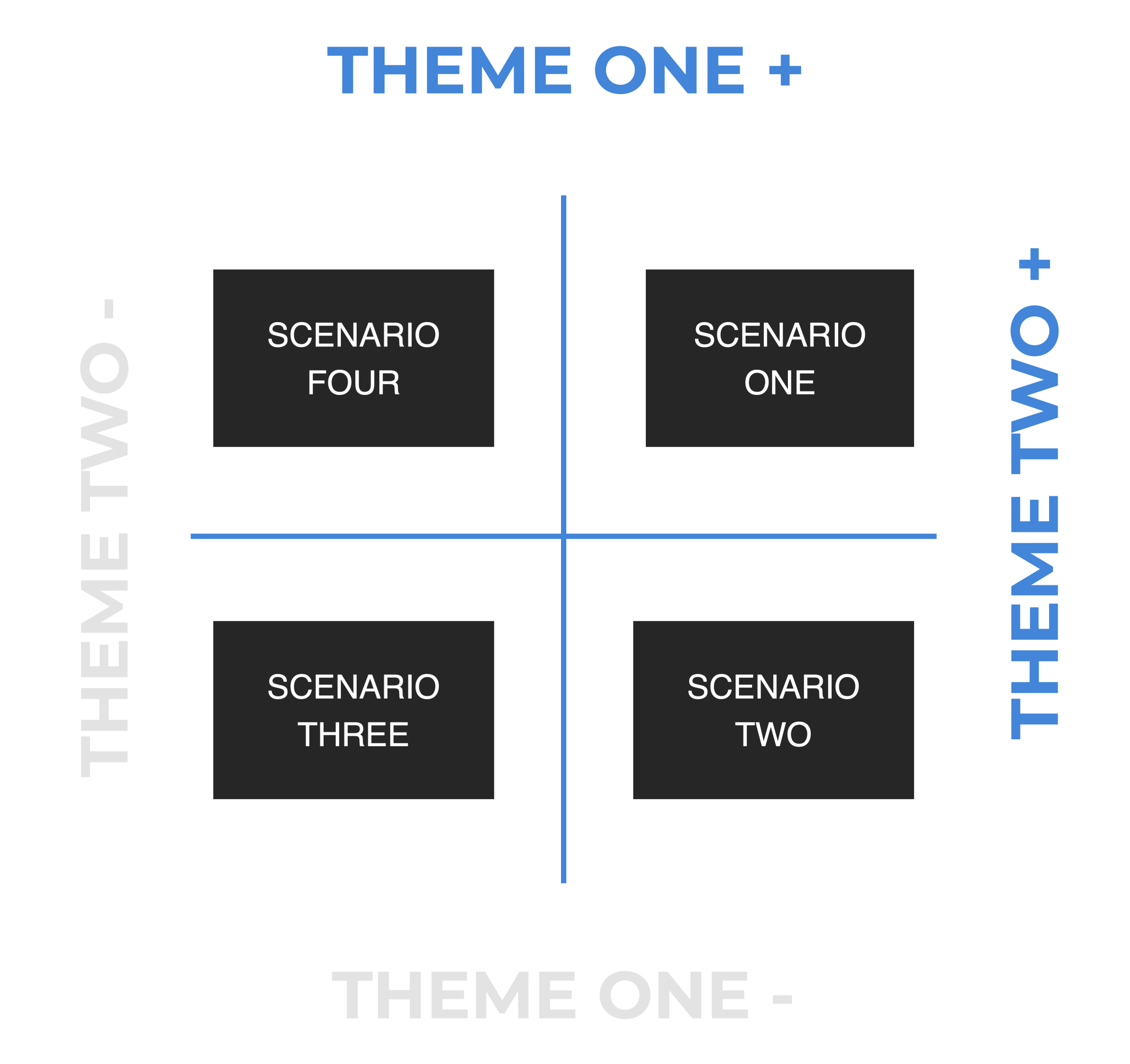 subscribe to get the 2025 work scenarios in your inbox
To register your interest and make sure you don't miss out, fill out the form below.